Our Service Platform
Our Energy as a Service-solution is all about making it easier for customers to get on board to become a more sustainable business. Technical risks, investment and energy performance of the equipment are all included at a fixed price per month.
Sustainable business model
Zero emissions
By switching from fossile fuels to electric heating, you will reduce your climate footprint by almost 100%. This enables large savings in CO2-taxes and benefits the environment.
Energy efficiency
Our heat pump technology emits heat up to 150°C, making it possible to achieve an energy efficiency around 80%. The solution generates a circular economy effect in which gives a positive contribution on taxonomy.
Reduce power demand
Integration of heat pumps into your process and production results in a reduced power demand of the electrical grid compared to other electrification measures. This enables to integrate our service platform also at locations with limited or low grid capacity.
Sustainable business model with low cost focus
Energy efficiency and reuse of waste heat give you low energy costs, reduce power demand and eliminate CO2 taxes. Due to our Energy as a Service contract, we eliminate CAPEX and reduce your OPEX.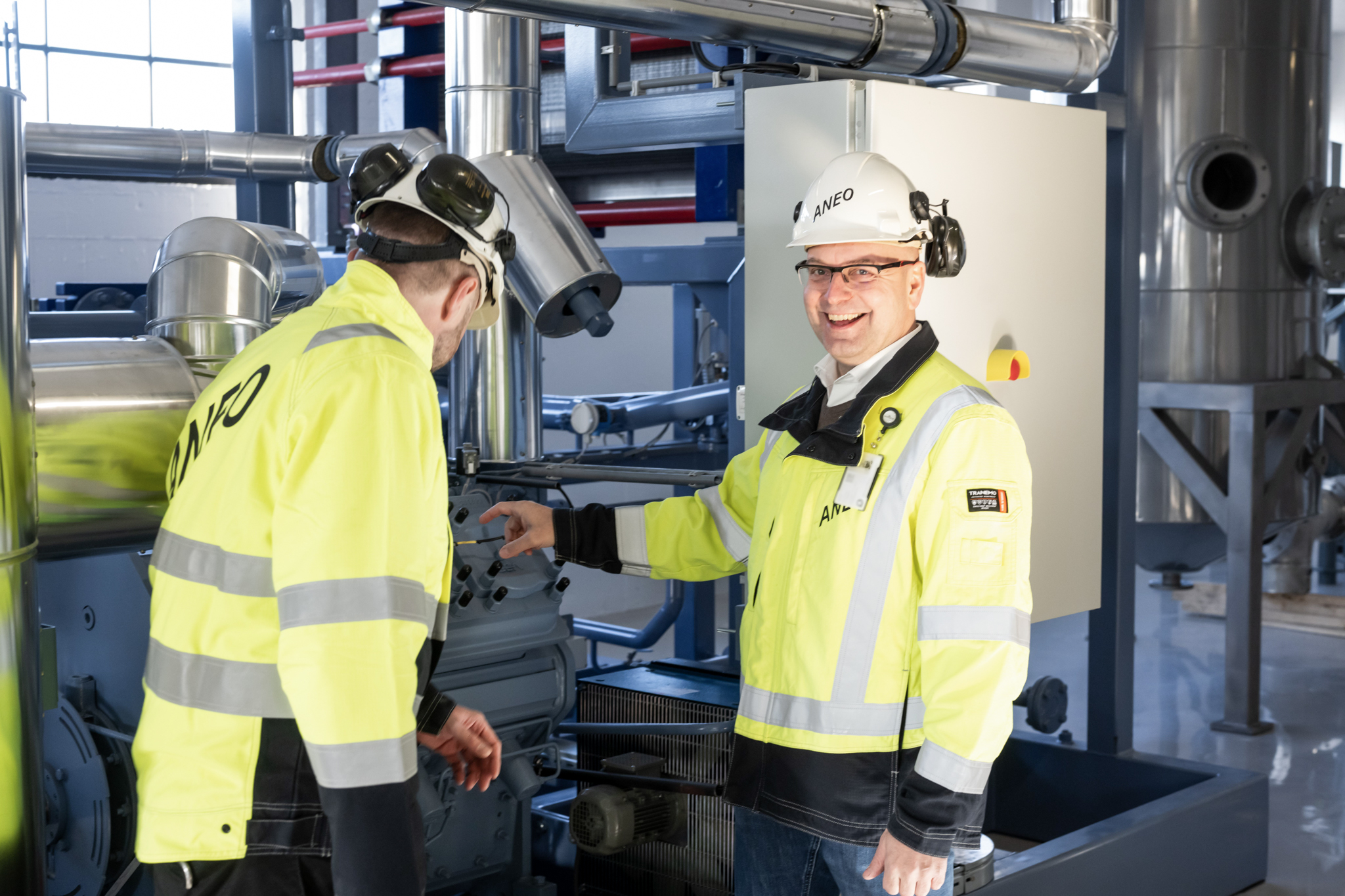 What is Energy as a Service?
With Energy as a Service (EaaS), the supplier handles complexity and risk on behalf of the customer. We ensure an installation that works and performs as it should – with fixed, monthly costs, which cover everything from planning, engineering and installation to financing and power consumption.
How do we approach different heat pumps?
Identification of business case and potential
Aneo Industry and the industry partner evaluate how to integration the HTHP, estimation of the energy saving potential as well as CAPEX/OPEX
2. Concept design and verification
Verification of the technical and economical feasibility for the integrated heat pump considering onsite conditions; Evaluation of the process integration
3. Engineering of the integrated HTHP
Detailed engineering including process integration, electricity, civil work, piping, etc. in cooperation with customer technical staff and preferred engineering and construction partners.
4. Construction and installation
Onsite installation of the HTHP with all required auxiliaries for the integration and operation of the system into the process; Site Acceptance Tests according to pre-identified procedure; Aneo Industry will finance the HTHP system and the integration according to agreed boundary conditions.
5. Operation of the system through Energy as a Service Agreement
The customer will get training on how to operate the system; Aneo Industry will continously monitor and follow up the system (second line of operation); Service and Maintenance according to EaaS agreement; Optimization of the performance; Customer only is invoiced for the supplied energy.